Planning and executing meetings and events can be fun and rewarding, yet also challenging and stressful.
When you get to the point where you have too many demands or your event becomes oversized, it's time to seek help. The important question is this: What kind of help and resources do I need?
In the world of meetings and events, we often hear the terms Event Management and Event Production used interchangeably. While there is often overlap in these supportive roles, each may play an independent but essential role in larger or complex events.
In this guide, we'll briefly discuss both roles and help you understand how best to seek the best help (because you deserve it!)
This guide will apply to typical Corporate, University, Non-Profit, and other events that planners host every day. There is a whole other world of specialist providers managing conferences, concerts, association meetings and the wide variety of public, ticketed events that we could barely cover in a single blog.
What we will discuss is:
Event Production
Event Management
Tips for Successful Collaboration
Event Production
Event Production addresses the technical and logistical needs related to content. This generally includes things that people see and hear like:
Theme/Décor
Stage Design and seating layouts
Displays and Visuals (e.g.: Projection or LED Walls)
Sound (e.g.: microphones and speakers)
Lighting & Rigging
Cameras and recording
PowerPoint/Keynote
Designers, Project Managers and Technical Operators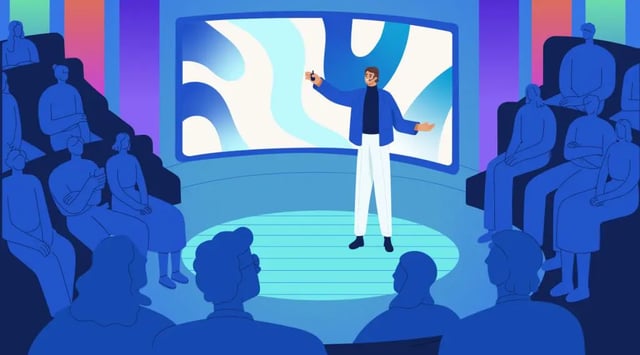 Event Producers are the people responsible for making sure that the correct equipment and crew are set and operated to deliver the expected results. Their exact responsibilities will vary from event to event and from venue to venue.
A common event, such as an in-person corporate town hall, needs to create an engaging and informative environment for the audience. The focus for the event producer might be on the sound (Mic check, 1, 2, 3!), cameras to capture the CEO, and large screens to display the presentation.
Event Producers take care of the event experience!
Event Management
Event Management addresses logistical and planning centered around the attendee.
I know, didn't we just talk about the attendees in the last section?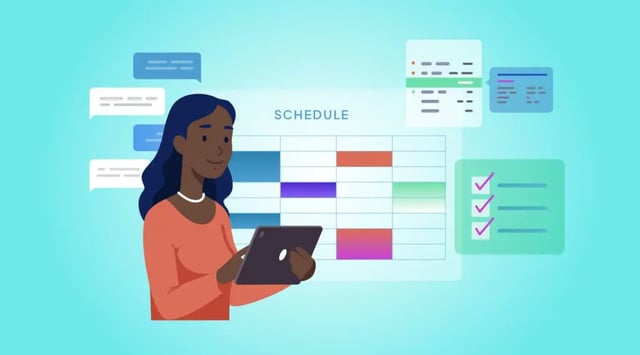 Much more than content and presentations impact the attendee experience. Other factors include:
Venue selection
Travel and transportation
Catering and entertainment
Theme/Décor
Event Staffing (e.g.: security, hospitality)
Creating event schedule and timeline
Vendor selection including AV, Décor, Catering, etc.
You can easily see where some of these items cross between production and management and may often be handled by the same person or company.
Tips For Successful Collaboration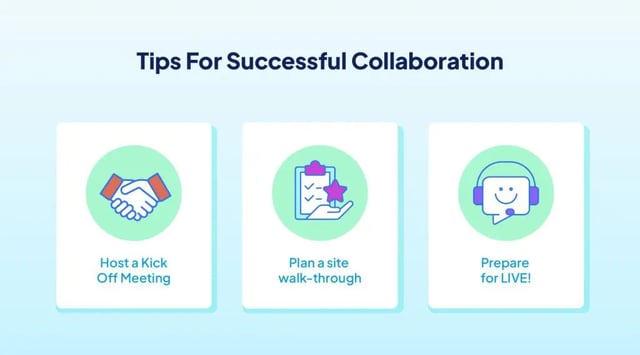 As you can see, there's overlap and connection with these roles, and both jobs are often handled by one person or team. When you do face a project that requires assistance from different specialists, it's important to get everyone involved in communicating effectively.
Host a Kick Off Meeting
Be sure to invite all of your vendors and partners to a kick off meeting and share each other's contact information. It is clearly understood that you, the planner, are the boss and decision maker. Ask each partner to identify their team's lead contact so there is no question about it later.
State the experience you want to deliver for the presenters, executives, and attendees. Provide information on the decisions that have been made, or still need to be made regarding the venue, theme and schedule.
Plan a site walk-through
Now that you've assembled the team and they are working to craft your scope and budget, schedule a time to visit the selected venue and literally walk-through the areas that will be used for your event. Event Managers may want to spend time with venue logistics like parking, handicap access, catering, pre-function spaces and even guest rooms (when held in a hotel).
The Event Producers will spend their time talking about load-in access, power, rigging, empty case storage and more.
Preparing for LIVE!
As a planner, you already divide your time and attention between multiple priorities daily. Define your personal schedule for the setup day through the tear down day, and when you will dedicate attention to the Production team versus the Management team.
If you have scheduled time to review the catering plan, make sure the AV & production team know so they are not disrupting you. Likewise, during a technical rehearsal, you should not be interrupted by your other partners (unless urgent, of course).
These boundaries help everyone respect each other's work and keep the event flowing smoothly.
Conclusion: Event Pros Complement Each Other
Whatever kind of event you are planning, there are technical and logistical areas that must be addressed. The scale and location of your event will determine if you need assistance or may be able to manage tasks yourself. Take a moment to consider the best use of your time, energy and budget and call the partner best able to support your needs.
Do you need to plan an in-person or hybrid event and want an Event Production partner? We're here to help! Contact us today to learn how HB Live will make your next event smooth and successful.