Event Technology
Innovation meets imagination
Welcome to the forefront of event innovation, where cutting-edge technology becomes a mesmerizing reality. As an acclaimed Event Production Company, we pride ourselves on pushing the boundaries of what's possible, setting new trends that captivate and amaze. We don't just set trends, we also test technology so you can trust we use the best in the industry.
Let's Collaborate
Video Walls (Indoors and Outdoors)
Immerse your audience in a visually stunning spectacle with our state-of-the-art Video Walls. From jaw-dropping high-resolution displays to dynamic content that comes to life, we take visual storytelling to an entirely new level, captivating your attendees. Whether it's a corporate event, an outdoor commencement, or PR backed product launch, we have options for each.
We choose LED Walls when we are competing with bright ambient light, need to make a visually stunning impact or both.

Walls can be configured as backdrops or as primary viewing screens.

The entire surface of the wall becomes a digital canvas that can display a variety of content in unique ways all at the same time.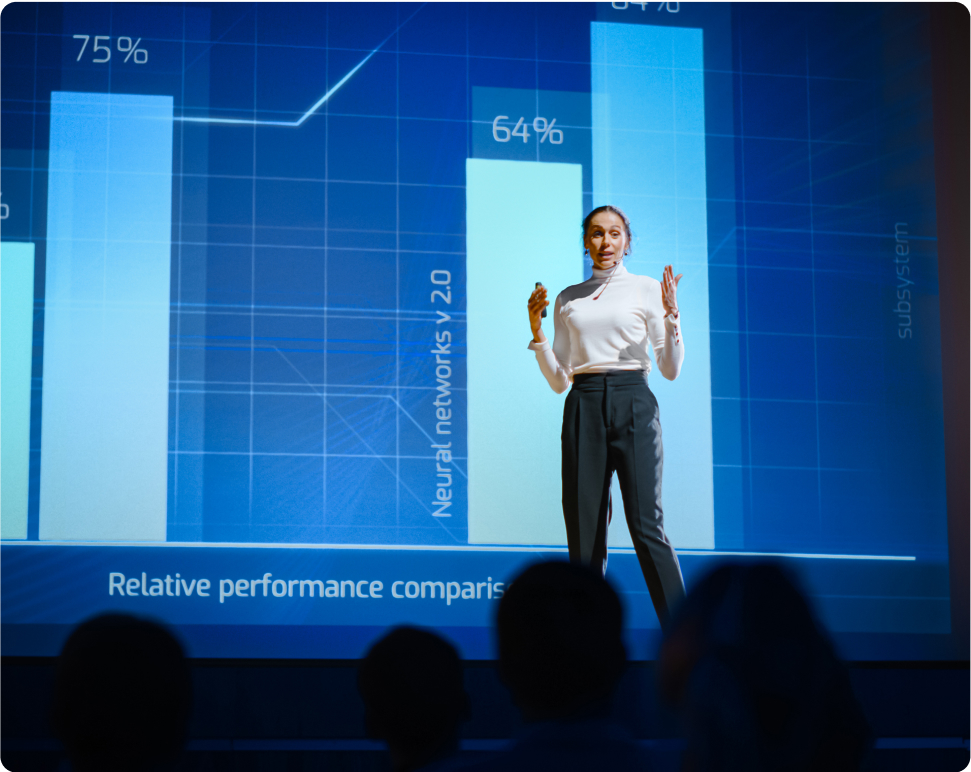 Professional Sound
You need your presenters and performers to be heard! Our state-of-the-art audio equipment, including top-of-the-line line arrays, microphones, and digital consoles, ensures crystal-clear sound reproduction that immerses your audience, creating an unforgettable experience.
Our skilled audio engineers orchestrate the perfect balance between sound and space. From intimate gatherings to packed arenas, our sound setups are scalable and tailored to your event's unique acoustics, ensuring every guest hears your message loud and clear, no matter where they are in the venue.

Let your event be heard, not just seen. Sound reinforcement serves your in-room audience and our team also knows how to deliver a broadcast quality feed to your recording and live streams.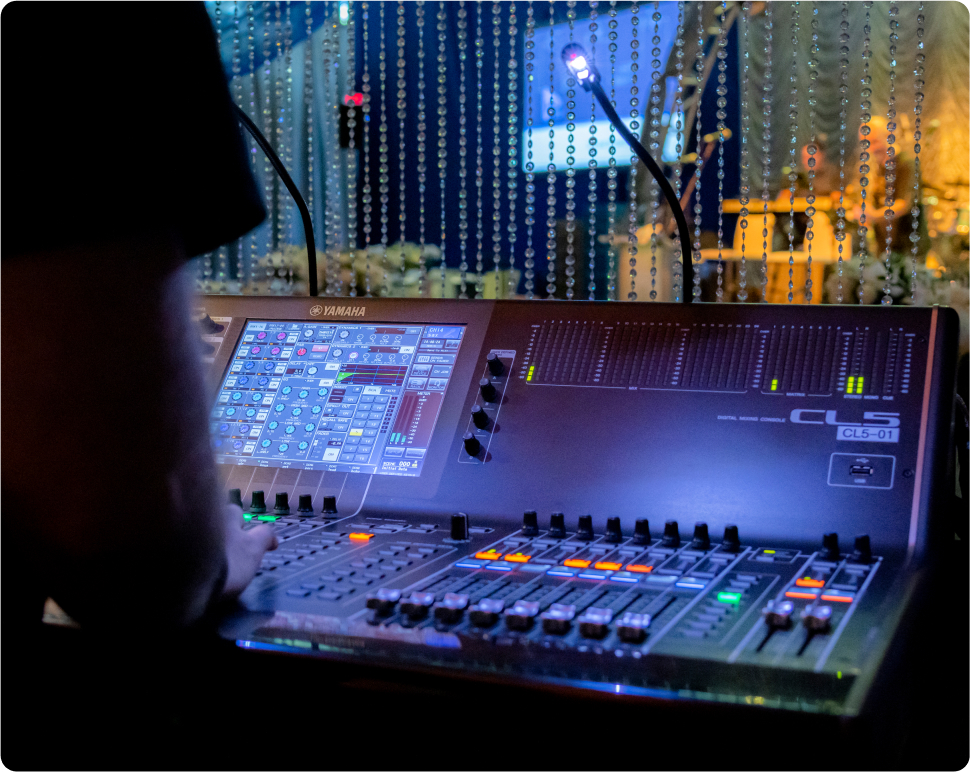 Broadcast-Quality Video
Video capture equipment like cameras and switchers have many purposes. You may have a huge audience and want to display the presenters on large screens. You might need to record the event for editing and broadcast. You may need to send video feeds to a remote audience watching a live stream on Zoom, Teams or Vimeo. In many cases, you need to do all of the above!
Video cameras capture HD up to 4k. We'll select studio configuration, robotic, aerial, wireless hand-held or a combination of these depending on your event.

Video switching equipment accepts feed from cameras as well as the other sources like PowerPoint and video recordings. We craft unique, branded layouts that can be sent to any of the places you need the video seen.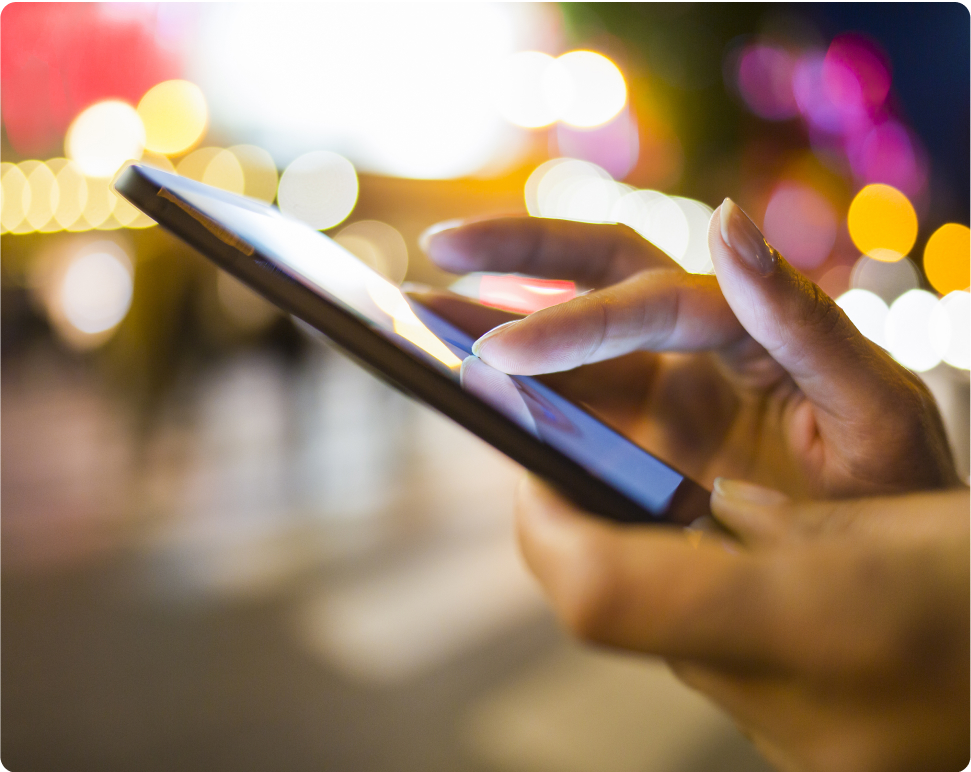 Projection and Large Displays
From ultra-high-definition projectors that bring visuals to life with stunning clarity to immersive projection mapping that transforms ordinary surfaces into breathtaking canvases, we take your event to a whole new dimension.
From small-scale indoor events to grand outdoor extravaganzas, our extensive range of projection equipment, including high-lumen projectors, projection surfaces, and advanced media servers, ensures that your visuals are striking and impactful, no matter the size or scope of your event.

Our team of skilled projection artists and technicians curate captivating visual experiences that go beyond traditional screens. Whether it's a jaw-dropping 3D projection mapping on a building facade, a mesmerizing holographic display, or an interactive augmented reality showcase, we turn your ideas into awe-inspiring realities.

Where projection or LED walls are not appropriate, we carry an incredible range of LED Monitors for every application.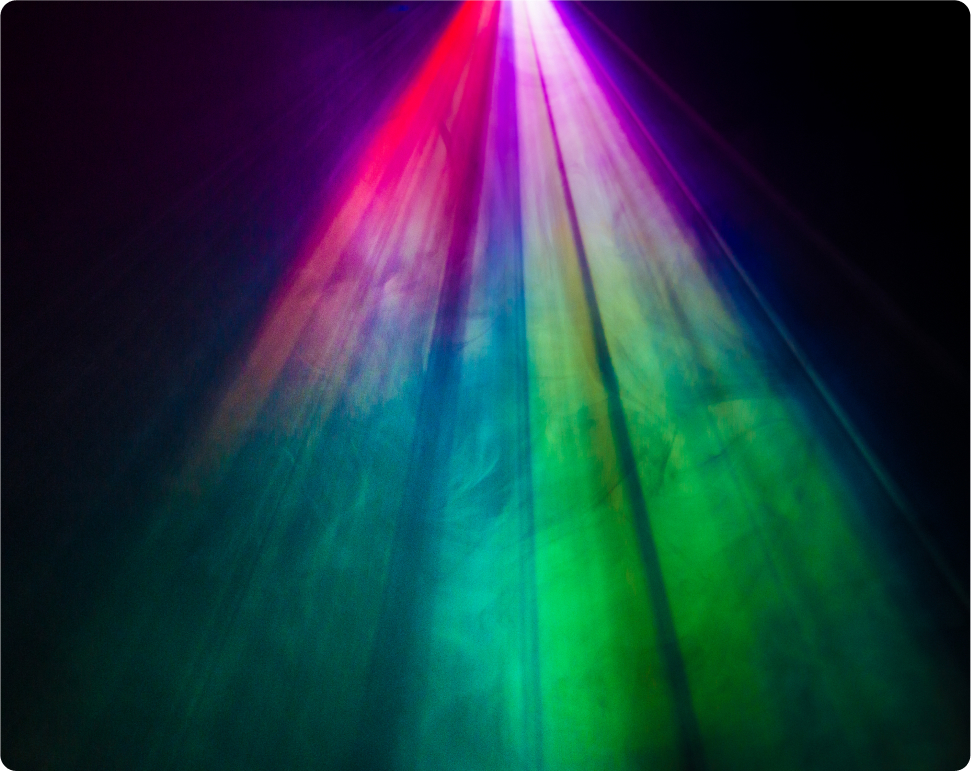 iMag
Tap into the heart of the action with our industry leading iMag (Image Magnification) technology. Through the intelligent use of high-definition cameras, switchers, and dynamic display systems, we bring every moment of your event to life on the big screen. Whether it's capturing the finest details of a keynote speaker or showcasing live performances with cinematic flair, we are built to amplify.
Bridge the gap between stage and audience. By projecting larger-than-life images of presenters and performers, every seat in the house feels like it's front row, even for those seated in the upper tiers.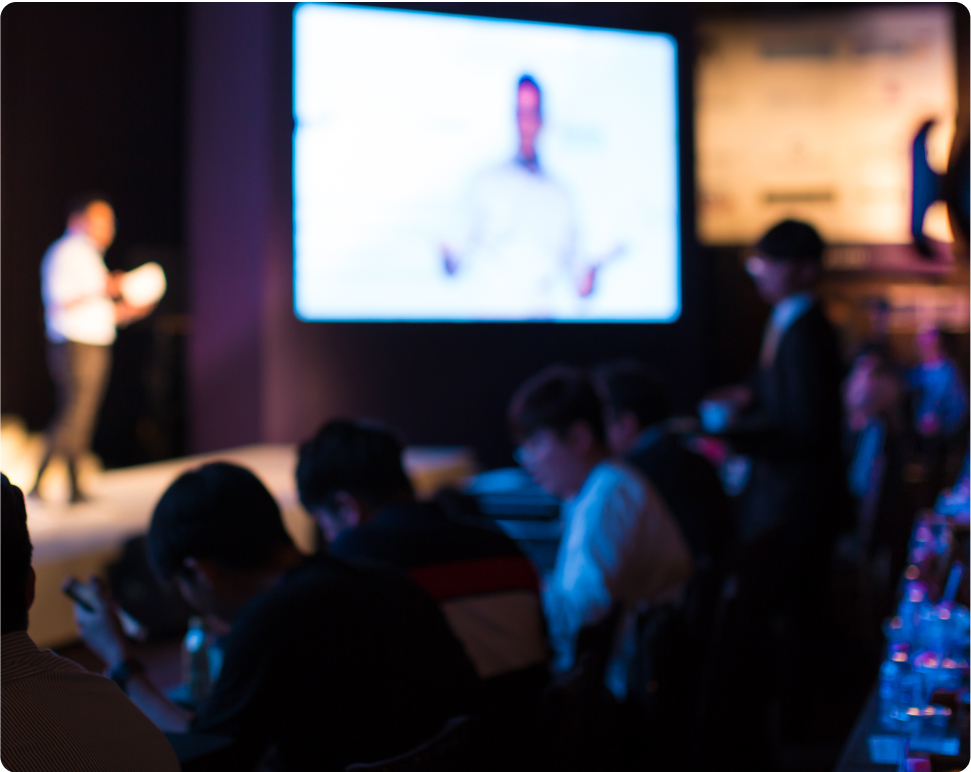 Lightning & Scenic
From state-of-the-art intelligent lighting fixtures that paint your event in a spectrum of colors to mesmerizing laser displays that create an irreplaceable atmosphere, our Lightning solutions change the impact of every other set piece. Proper lightning can hide imperfections, enhance key elements and surprise & delight. Scenic elements can be simple elegant drapery, functional branded backdrop or stunning 3D elements illuminated in unique ways.
We start with a functional lighting "stage wash" that makes your on-stage talent stand out for the audience and cameras.

We'll add advanced lighting consoles, color changers and moving lights to craft dynamic lighting displays that adapt to your event's every beat and rhythm. With our creative approach, we turn your venue into an array of light, enhancing the mood, amplifying emotions, leaving your attendees captivated by the sheer magic of Lightning.

Whether it's a grand gala, a high-energy concert, or a sophisticated product launch, our precision lighting solutions ensure that every aspect of your event is highlighted to perfection.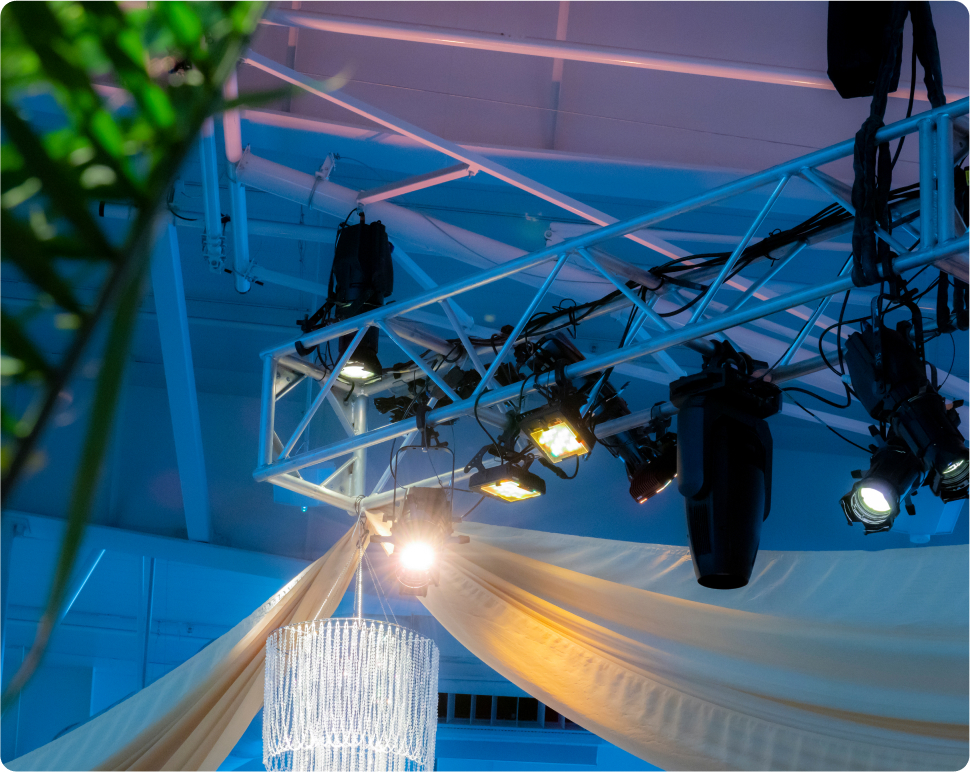 Live Streaming
Pandemic impacted proximity
You're immediately lowering the impact of your event without having streaming capabilities. It's incredibly cost-effective and almost infinitely scalable to any size audience!
With our integrated chat and Q&A features, your online audience becomes an active part of your event, fostering meaningful connections and sparking engaging discussions.

At the heart of our Streaming prowess lies a team of skilled professionals who produce an on-line event especially for the remote audience. From multi-camera setups and professional-grade audio equipment to cutting-edge encoding and cloud-based solutions, we ensure that your online experience is seamless, glitch-free, and on par with the production value of any high-profile broadcast.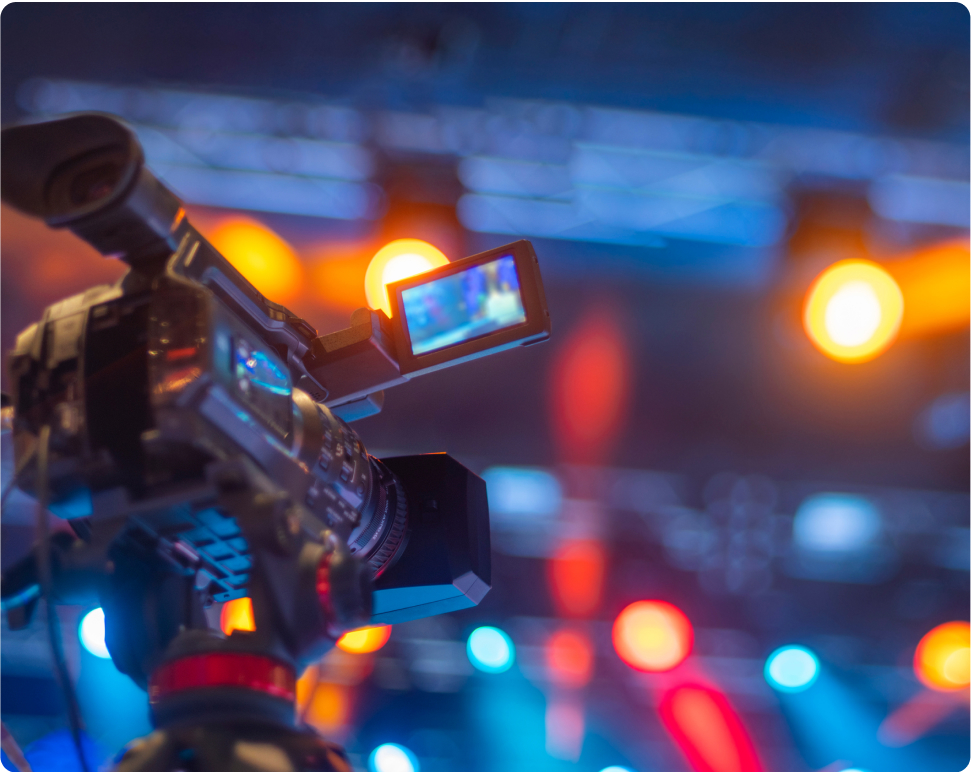 Zoom and Microsoft Teams Events
Corporations, Associations and Universities rely heavily on now-ubiquitous conference solutions such as Zoom and Teams. HB Live has crafted a highly-reliable methodology for using these platforms to create engaging hybrid events.
Our solution offers seamless two-way dialogue between the in-room and remote presenters. We then ensure that both the in-room and online audience receives the presentation customized to suit their viewing environment.

Connect two or more live gatherings for a truly engaging group discussion.

Utilize "Gallery View" to offer presenters eye contact with their remote audience.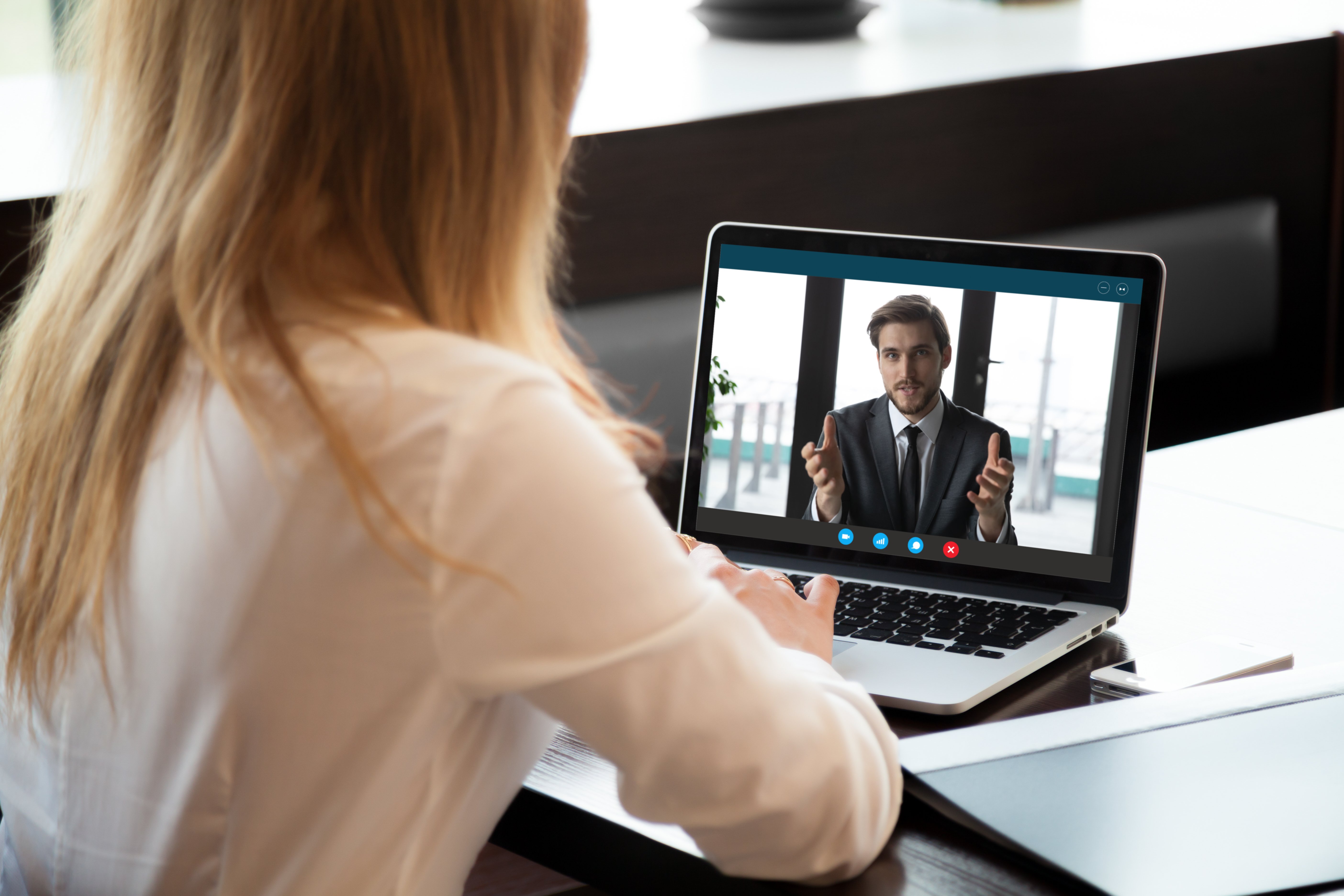 Check out our Latest News
Pro-tips, Spotlights, & More