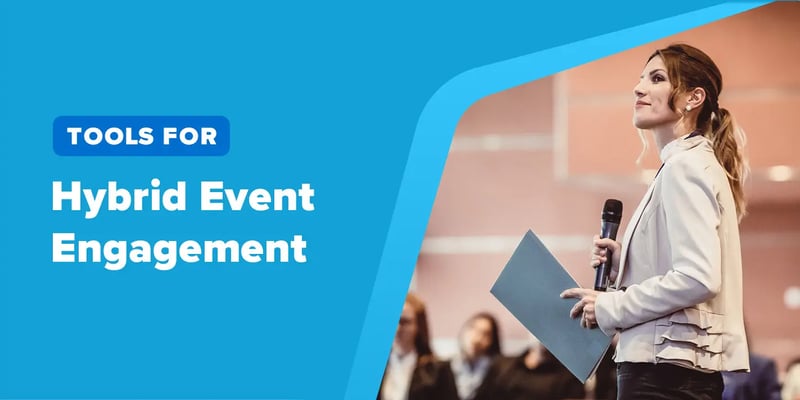 Hybrid events allow you to host events with employees and stakeholders worldwide. In many ways, a hybrid structure offers you the best of both worlds — you can engage in-person attendees while still accommodating individuals who can't make it to your event space.
However, hosting a hybrid event creates unique challenges for you as the organizer. You need a way to engage everyone equally so that the event will be a positive experience. Hybrid event tools help you accomplish that. Continue reading for five of our favorite tools for hybrid event engagement.
5 Tools to Engage Your Hybrid Audience
With a hybrid format, you need tools to facilitate interactions between in-person and virtual attendees. In many ways, in-person attendees have a better starting point. Because they're in the room with the meeting host, in-person participants have a more direct way of interacting with the material and staying engaged. However, the right strategy balances the scales and allows you to organize an event that all participants will love to attend.
Hybrid tools can allow both in-person and virtual attendees to use the same features to connect and interact with events. Whether they're signing in by scanning a QR code or answering polls, you can find features that cater to the unique needs of hybrid events, reaching both audiences equally.
Here are our top five tools you can use at your next hybrid event:
1. Slido
Slido is an app that offers several options to engage your hybrid audience. With a simple interface, you can integrate polls, Q&As and quizzes into your event with just a couple of short steps.
Before your event, you'll log in and set up your chosen features. Once the session begins, HB Live can place a QR code on the screen. Users scan the code and can interact with your Slido elements — no login necessary. As your audience answers polls or asks questions, we can display the results on a screen for all to see.
A few of the ways Slido can engage your hybrid audience include:
Polls: Slido offers multiple polls, including multiple-choice responses, quizzes and options for audience members to rank different choices. If you're hosting an informational meeting or training, you might integrate a quiz to test your audience's understanding of a topic. Or, you might want to gauge how your employees rank your company's priorities at a corporate town hall. Use the ranking poll option to gain insights into how your company is performing on its primary goals from your employees' point of view.
Q&As: Answer everyone's questions with Slido's Q&A options. In a hybrid event, virtual audience members might have a more difficult time speaking up than the in-person team members. Slido lets you see everyone's questions — and participants can upvote each other's questions so you can see which are most pressing for the most people.
Analytics: View audience answers after the event and analyze data about how many audience members participated through Slido. You can use this data to take actionable insights back to your company post-meeting — minimal note-taking required. The engagement statistics can help you spot areas for improvement to make your next hybrid event even more successful.
2. Word Cloud
Many online tools and apps offer a word cloud feature. Word clouds are an excellent way for you and the audience to visualize the frequency of everyone's responses. Anyone can respond to a question, and each time a word is entered, it gets larger, while less common words stay small.
A few ways you could use word clouds to boost hybrid event engagement include:
Brainstorming: Use word clouds to obtain ideas from everyone in the audience. Put a question on the screen and ask the audience to respond with the first word that comes to mind. For example, a tech company might ask the audience about the most important software usability features. You can use the responses to kickstart discussions or guide your meeting agenda.
Team-building: Ask icebreaker questions through word clouds so everyone can see each other's responses. You could use the results to generate a more engaging discussion or encourage conversation amongst the audience.
Reflecting: At the end of the meeting, consider asking the audience to state their takeaways in one word. This tactic encourages the audience to reflect and consider how they'll apply the information to their day-to-day. The word cloud will also show what everyone has learned, allowing participants to see takeaways they might not have previously considered and giving you a powerful evaluative tool. Use the results to gauge whether the event had the intended impact.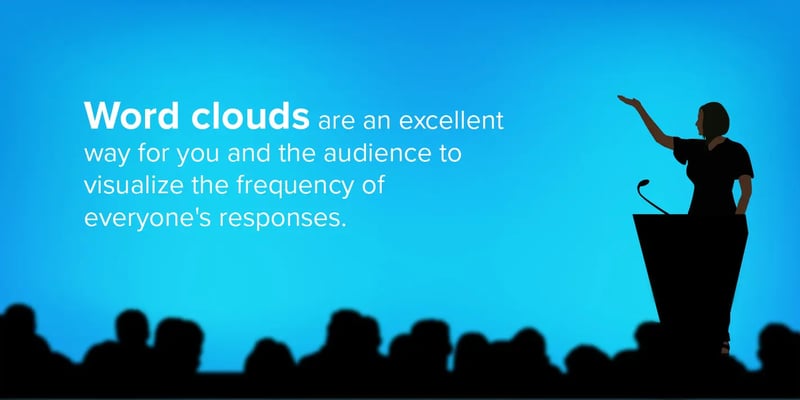 3. Mentimeter
While Slido and word clouds are great tools to use alongside your standard presentation, Mentimeter allows you to create interactive presentations directly. Set up a slide deck with both informational and engaging slides.
On Mentimeter, your slides can include:
Polls
Quizzes
Open-ended responses
Sliding scales
Word clouds
Q&As
Share the presentation with your audience through a link or QR code, and select permissions that limit your presentation participation to only your meeting attendees.
Mentimeter provides robust analytics capabilities. After your event, download the data to gain insights from audience responses. You can even segment the responses and view changes over time.
For example, if you host a series of onboarding events, you might engage your audiences with quizzes and Q&As. Afterward, you can compare how each group performed and the questions they asked. Use the insights to see the information your new hires need to know from their points of view.
4. LoQuiz
Gamifying your corporate event helps your attendees decompress, making for a more productive meeting. Participants will be more engaged and they'll have more fun. A tool like LoQuiz lets you implement team-building games designed for hybrid audiences. For example, kick your meeting off with a virtual escape room and initiate your participants' strategic and collaborative thinking.
5. Poll Everywhere
Poll Everywhere is a tool you can use to integrate interactive question-and-responses. The platform allows you to brand your polls to create company-wide consistency throughout your presentations. One of the unique features of Poll Anywhere is the ability to leave a poll running in the background through the event, even as your audience engages in other presentation features.
You might use this functionality to keep a running pulse on your event. For example, ask your audience to share how they're feeling, how engaged they are or their favorite piece of information throughout the presentation. Keeping running feedback open shows your audience you're listening and care about their reactions. You can also use the feedback to adjust your presentation on the spot as needed, creating the most positive event experience possible.
Host a Successful Hybrid Event With HB Live
Whether you're organizing a town hall, a TEDx event or anything in between, HB Live can help you run an engaging corporate event. With any hybrid event structure, an effective tech configuration is vital. The right tools can make it possible for your virtual and in-person attendees to engage in activities and events with their mobile devices in the same ways. Our experts will set up the audiovisual equipment you need to facilitate an event so engaging it'll be like your remote attendees are in the room with you.
Want a customized media solution that incorporates the right hybrid event tools for your company? We can help you craft a media strategy that will keep your hybrid audience engaged. Contact our team to learn how HB Live can work with you on your next corporate event.