Well-produced corporate videos can tell your story better and faster than any other medium— Video is the Ferrari of content.
This applies to short-form video content used in social media, medium-length content such as an event highlight reel, or testimonial and long-form content, like an event replay. No matter the format, our experience with corporate video production projects falls into two categories:
I have an event that needs to be recorded and edited into a polished video.

I need to create a specific video to achieve a specific goal.
In any case, there are several things that you need to know about corporate video production. The first four are about your project in particular:
What you are going to do with the video recording?

The complexity of your project.

When you need the finished video.

The size of your budget.
And the last two are about video production in general:
Having additional cameras can create more engaging videos.

Your video needs good audio, too.
#1 What, exactly, are you going to do with the video recording?
Who will watch it, and why? Where will you host it or post it? The sky's the limit—there are countless ways to use this video!
There are several common uses for video recording, such as:
Basic replay or archive footage. This requires little to no editing. Viewers can watch the entire recording.

Highlight Reel. This involves choosing the best parts of an event to inform or excite the viewer or amplify the message. Decide what you want to highlight and why. Music and graphics should be added to support your goals.

Clips. These are selections of very short segments that can be used on social media for video marketing, or as background videos on a web page.
You should also consider your target audience. Depending on who you want to see the finished piece, you might prefer one style over another.
#2 How complex is this project?
All video projects vary quite a bit in their complexity. Corporate video productions are no exception.
Recording an event such as a CEO Town Hall, Panel Discussion, Training Session, or Awards Program is a fairly simple task. Turning those recordings into a finished product can be as simple as adding a title and trimming out "dead air".
Crafting a highlight reel, on the other hand, might require a time-intensive review to select the best parts of the video and consider background music and additional graphics.
Your video production partner will help you understand how complex your video project is based on what you plan to do with the video recording. This information will help the production team plan with executing the project.
#3 When do you need the finished video?
Many organizations consider video recording as an afterthought. But we encourage you to be proactive, to allow ample time to achieve that goal.
Video takes time to edit and upload. You might also need on-location editing.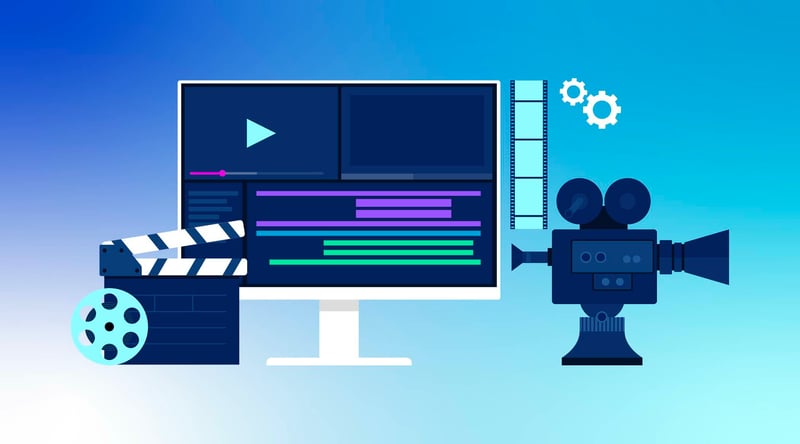 Your corporate video production company will be able to give you a good estimate of how long the finished product will take, based on your needs and goals in mind.
For very basic video production, such as raw archival footage, only minimal editing is required, so the project can be completed soon after filming.
For more complicated video production, such as highlight reels, the production team will have to put in more time and effort to edit the video to taste.
#4 Your Budget.
We recently published an article talking about setting your event budget, and we also offer a calculator on our homepage for making an estimate of the AV Production costs.
When your Event Production company is on-location supporting your event, adding one camera for video recording becomes an affordable add-on, especially if the recording needs minimal editing. As the scope of the event, length of the event, and complexity of editing increases, so does the budget.
A raw, unedited recording of a one-day event should cost less than $2,000. The price goes up from there.
#5 Having a second, or even third, camera can provide content to generate much more interesting and engaging videos.
These additional cameras are called "cutaway", or "B-roll" shots and provide the view of some other perspectives on your event. For example, if you want to record the audience asking questions.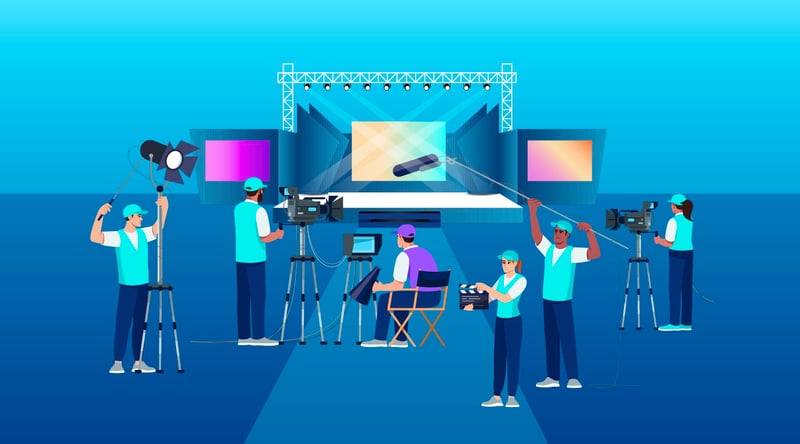 Corporate video production companies can use a video switcher to cut between multiple cameras, just like live TV. The output from the switcher gets recorded as what is commonly referred to as your "program feed", and you leave the event with a nearly finished video suitable for replay.
When you record each camera individually, on the other hand, we call that ISO (for isolated recordings). You'll wind up with multiple hard drives, so you get tons more media to choose from in later editing. Compared to using a video switcher, this approach requires more time and effort to complete editing.
Using just one camera is okay if all you want is a basic documentation of the event. But nobody wants to watch a single angle for an hour, and adding another camera or two to the production process goes a long way in making the final product more engaging and worth watching.
#6 Your video requires good audio.
There's something jarring about seeing high-quality video along with poor audio. It makes you wonder what the production team was thinking!
Any event production company worth their salt will use a high-quality audio feed directly from the microphones used by the presenters. Some events might not require a sound system, so the camera operator will need to get a microphone close to the presenter for the best audio results.
Conclusion: The More You Know, the Better
Every project involves a certain amount of uncertainty. The more you know about what you want out of the corporate video production process, the better. This information will help you plan together with the event production team.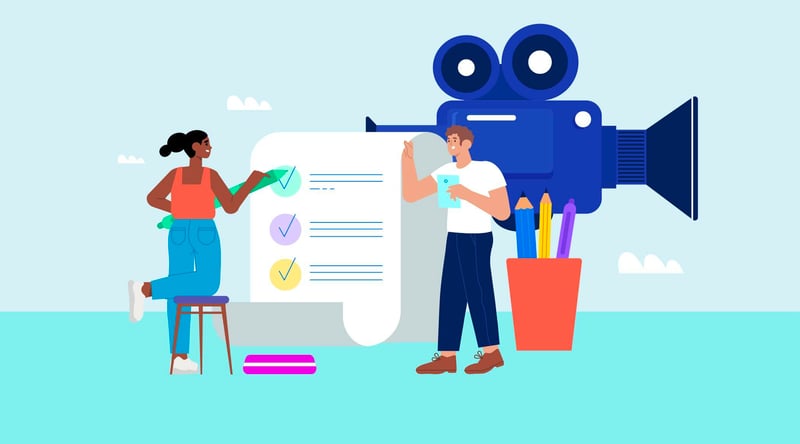 There are four things that you need to know about your video project in particular:
What you want to do with it. This could mean using it as archive footage, for clips, or as a highlight reel.
The complexity involved, ranging from a simple one-shot record, to a complex multi-camera production.
When you need the finished product. This should match the complexity of the project- obviously, only simple projects can be completed quickly.
Your estimated budget, which depends on the scope, scale, and length of the production.
And there are two things that you should know about video production in general:
Extra cameras make more engaging content. They provide additional perspectives that provide variety to the footage.
Your video requires good audio quality. In our highly visual-driven modern world, it is easy to forget this. But the quality of your audio needs to at least match the quality of your video.
Planning a hybrid event for your organization, and want to make sure you get a great recording? We'd love to talk.