Much like Neapolitan ice cream, hybrid events give you a little bit of everything: they include both in-person and virtual elements.They are growing in popularity, due the widespread acceptance of remote work and virtual interaction.
Organizations of all kinds are increasingly turning to hybrid events to expand reach. Many companies are using hybrid for the convenience of reaching their staff/audience wherever they are located (e.g.: remote workforce), lower costs, and take advantage of modern technology. A hybrid event offers many of the perks of virtual and in person events, with few of the drawbacks of either.
Hybrid events also offer a proven return on investment. In one study, an impressive 86% of B2B businesses saw a positive ROI on their event in just 7 months!
Here's what we'll cover in this article:
What a Hybrid Event Looks Like
What it is Not
Benefits of Hybrid Events
Challenges of Hybrid Events
Impacts on the Event Industry
Why You Will Need Hybrid Events in the Future
Hybrid event producers like HB Live specialize in using the latest event technology to create a successful event for your specific goals and needs. We believe that events will only continue to follow the hybrid event format in the future.
What a Hybrid Event Looks Like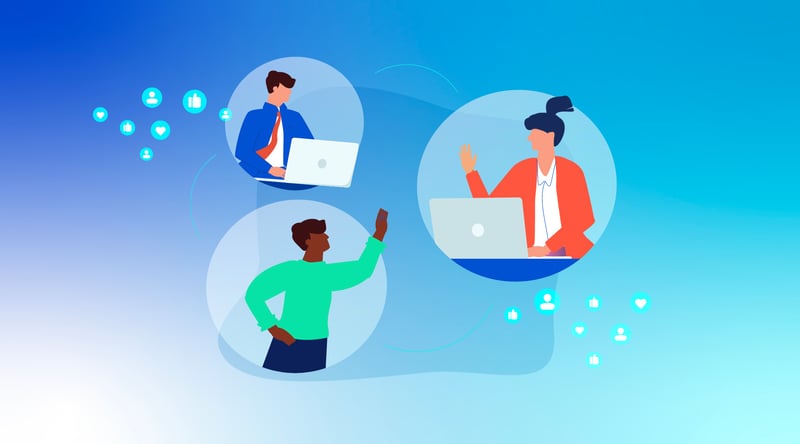 Hybrid events are so exciting because they can take on a wide variety of forms, from the most basic meeting with a video call, to complex, interactive 3D shows. The typical hybrid event is toward the simpler side of this scale, however.
In a sense, hybrid events of some form or other have been taking place at least since the telephone was invented. Phone-in radio and television events were popular throughout the last century, but the internet has really democratized the possibilities of hybrid events, especially with the explosion of video calling in recent years. Now anyone with a room and an internet connection can hold some kind of hybrid or virtual event.
In practice, creating an engaging hybrid event will require a little more than that. A video projector or large screen is much better than a tiny laptop. And the venue should be chosen so that it can support every physical participant.
Additionally, the virtual component of a hybrid event means that there are many possibilities to choose from. Choosing the right hybrid event platform can make a big difference.
What it is Not
Not everything with a video call is a hybrid event. A successful hybrid event is characterized by having multiple remote and in-person participants and the intent to engage both groups equally.
This means that a simple Zoom call with an all virtual audience is not a hybrid event, since it has no physical component. And a livestream of an in-person event, with no input from those watching, is also not a hybrid event, regardless of which virtual event platform it takes place on.
In practice, hybrid events are somewhat more limited than purely physical events. Hybrid events should stick to activities that all parties can participate in, such as speeches, Q&As, and polls. Activities like eating, sports, and working on a shared piece of artwork are not conducive to the balance of hybrid events.
Benefits of Hybrid Events
Hybrid events let you enjoy most of the benefits of in-person and remote events, with few of the costs.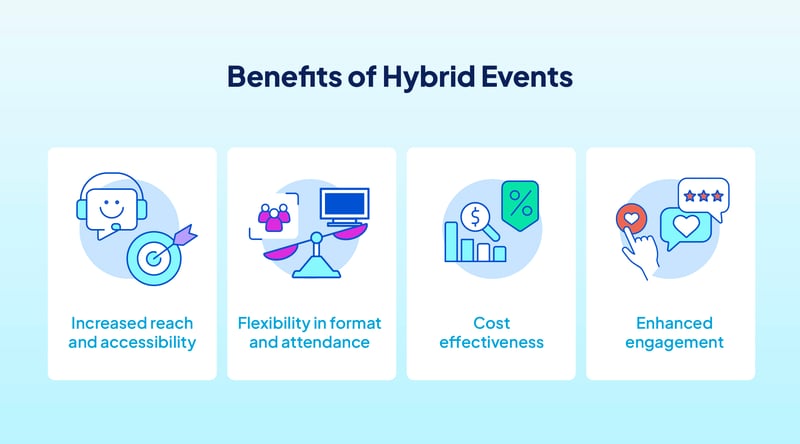 Some of the most important benefits include:
Increased reach and accessibility and convenience
Flexibility in format and attendance
Cost effectiveness
Enhanced engagement
Reduced environmental impact
More sponsor opportunities
Repurposing remote portions as content
More data and insights
Increased reach and accessibility
Not everyone will be able to make it to your event. And not everyone who wants to go to your event will want to do so in-person. (Hey, getting stuck in traffic is no fun!)
Hybrid events let you tap into both audience pools: people who can and want to go in person, and everyone else.
Most importantly, they enable people with mobility difficulties or other inability to enjoy the same event as everyone else, without difficulty or stigma. They also help engage people who might just be temporarily sick and don't want to spread a cold to the office.
Flexibility in format in audience
Successful hybrid events vary widely in the extent to which they involve their remote components. Some may be video call heavy, while others might have more in-person participants.
The good news is that you don't have to keep the structure fixed. You can adjust based on your understanding of who will show up, and how. So long as your goal is to keep the virtual and live experiences balanced, you can adjust the plan to make it work.
You can also have far more online attendees with a hybrid event than you normally could for a fully in person event. While physical venues have limited capacity, virtual venues are far less limited.
Cost effectiveness
Hybrid events save money on both the organizer side and the attendee side.
For the organizer, a hybrid event could mean a smaller and less expensive venue.
For the virtual audience, a hybrid event means no travel costs.
Enhanced engagement
Hybrid events give people the opportunity to engage in their chosen engagement style. Some people simply prefer the distance enabled by video calls, and will be more likely to participate than if they showed up in person. Overall engagement can actually be higher for hybrid events than for fully live events.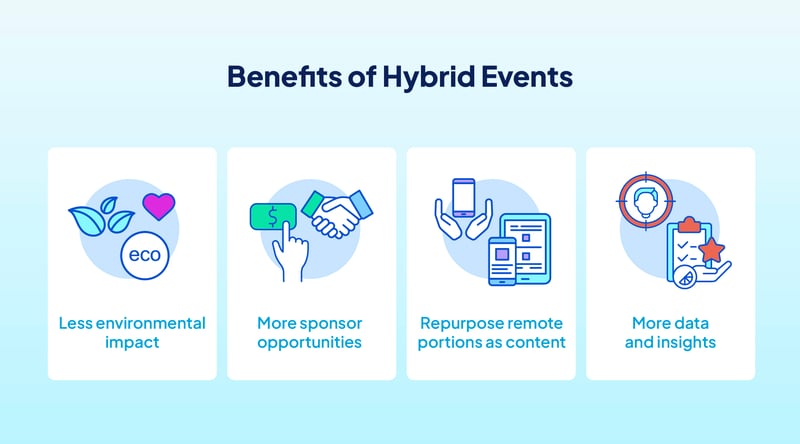 Reduced environmental impact
The benefits here are obvious. Less travel and smaller venues means fewer carbon emissions caused by your event. While it won't save the world, every little bit makes a difference.
Repurposing content
Any part of a remote event can be recorded and turned into content. For example, webinars and podcasts can be repurposed into blog articles.
At the same time, you can use your existing content as part of the remote portions of your event. Consider what power points or short videos you already have on hand that could be inserted logically into your event.
More data and insights
In-person events are restricted in the kinds of data they can provide. You can count how many people show up, but you probably won't have someone in the corner measuring how many times each person talks.
A hybrid event, by contrast, will give you a more objective sense of when people are engaged and when they are not. You can measure when people sign on or sign off, for example.
Of course fully remote events will offer more of this kind of data, but hybrid events do have the advantage of providing a control group in the live participants. Suppose you got a sense that the people in the room lost interest during one speaker's presentation. Then you can test that hypothesis by looking at the hard data from the virtual participants, to see if they felt the same way.
More data also means more sponsorship opportunities. Event sponsors are increasingly interested in hybrid events for all of the reasons listed here, but especially for the data they can collect.
Challenges of Hybrid Events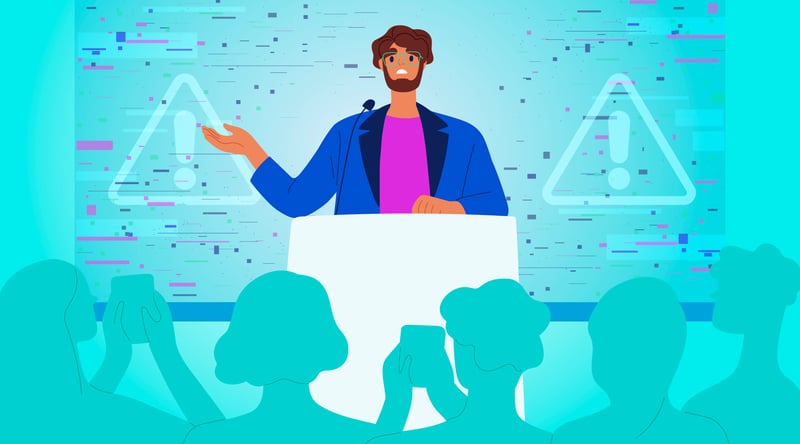 Hybrid and remote events are not without challenges. Most obvious are technical challenges, which can occur with any event involving video calls or remote interaction. But at least with hybrid events, if one part fails, you can always fall back on the other. The people gathered live can still carry out their own side of the event.
Another challenge is balance. Live and remote participants will have substantially different experiences. There is a need to ensure that both have equal ability to participate. There is also a question of cost, if money is involved, as remote participants will be less inclined to pay the same price as in-person participants.
Some activities are not possible remotely. For example, catering and dining are not easily provided for remote participants (but still possible!). While you could hold an event where the live participants eat and the others don't, it would probably feel uncomfortable for both groups
Impacts on the Event Industry
The event industry is huge and always growing. Just compare the wide variety of events that organizations put on: corporation and board meetings, sales kick-off events, fundraising Galas, concerts, graduations, and more.
The rise of virtual interaction is a development that will have far-reaching effects across the industry. While many events will not go digital at all, quite a few will. Expect to see a shift in the kinds of technology expected of events- venues will prioritize equipment like webcams, microphones, and projectors. Expect to also see increased demand for smaller spaces, due to less demand for physical presence.
Conclusion: Why You Will Need A Hybrid Event in the Future
Remote and hybrid events have been happening for well over a decade, but the recent technology shift has really let the cat out of the bag (and there is no way Mr. Sprinkles is going back in!)
Most people today are used to remote experiences of some form or other and have discovered that they actually prefer remote experiences. It will be important to cater to them moving forward.
And our increasingly uncertain world may make it more and more necessary for organizations to turn to hybrid events as a valuable solution. Future technology shifts will only make it more likely for events to be held at least partially remotely.
Hybrid events are an emerging field, and their norms and rules are not yet written. Most people don't know the best practices. HB Live specializes in hybrid event production, and we strive to plan and produce them with the latest developments in mind.
Considering holding a hybrid event? We'd be happy to help!